Reviewed by Dr. Mike Norouzinia, DDS, and Dr. Kerri Font, DDS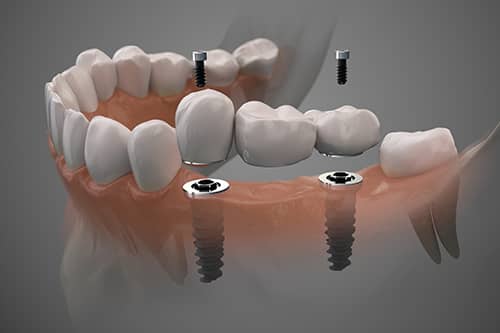 Dental implants have been hailed as a revolutionary approach to tooth replacement, offering a durable and long-lasting solution for individuals missing one or more teeth.
In this blog post, we'll delve into the world of dental implants and answer 10 of the most frequently asked questions to give you a better understanding of this innovative dental treatment.
Table of Contents
Dental Implants are a revolutionary approach to tooth replacement. They are a long-lasting alternative to traditional dentures. Benefits include improved function, bone preservation and improved oral health.
10 FAQs About Dental Implants
1. What are dental implants, and how do they work?
Dental implants are artificial tooth roots made of titanium, surgically inserted into the jawbone to support a replacement tooth or bridge. They are specifically designed to fuse with the bone over time, ensuring a secure and stable foundation. The implant serves as an anchor for a custom-made crown, which is designed to look and function like a natural tooth.
2. Who is a good candidate for dental implants?
An ideal candidate for dental implants is someone with good overall oral health, healthy gums, and sufficient bone density in the jaw to support the implant. Those with chronic health conditions such as diabetes or heart disease may still be eligible, but the dentist may require additional assessments to ensure the best possible outcome.
It's also essential to maintain proper oral hygiene and see the dentist for regular check-ups, as poor dental care can lead to implant failure. For more information about dental implant failure, read Dental Implant Failure: Causes, Prevention, and Treatment Options.
3. Is dental implant surgery painful?
No, dental implant surgery is not painful. During the procedure, we use local anesthesia and dental sedation to ensure maximum comfort and minimize any discomfort. You will experience some mild soreness and swelling in the area after the procedure, but this will resolve over time.
4. What is the recovery process like after implant surgery?
Recovery from the surgery itself is typically quite quick, with most people able to resume normal activities after a few days. However, it will take several months for the implant to fully integrate with the jawbone. Lifestyle habits, such as smoking, can impact the osseointegration process, ultimately affecting how long it takes for the implant to fully integrate with the jawbone. For more information, read What To Expect After Dental Implant Surgery.
Smoking has been shown to significantly decrease the success rate of dental implant treatments, so it is best to stop smoking until the implant has successfully fused with the jaw bone. Ideally, you should stop smoking indefinitely to ensure the best possible results. For more information, read How Smoking Affects Your Oral Health and the Success of Dental Implants.
5. How much do dental implants cost?
The cost of dental implants can vary widely, depending on factors like the number of implants needed, the type of implant used, and any additional procedures required to prepare for the implants, such as bone grafting. Ask for a consultation at Highlands Ranch Periodontics for your customized treatment plan and pricing
6. Does insurance cover dental implants?
Dental insurance coverage for implants varies greatly by the provider and specific plan. Some plans may cover a portion of the implant procedure, while others may only cover associated treatments like crowns or bone grafting. Contact your insurance provider for more information on what may be covered.
7. How long do dental implants last?
With proper care, dental implants can last a lifetime. However, the dental crown attached to the implant may require replacement after 10 to 15 years due to normal wear and tear. Regular dental check-ups, a good oral hygiene routine, and healthy lifestyle choices are the best ways to ensure that your dental implants last for years to come.
8. Are there any risks associated with implant surgery?
As with any surgical procedure, there is a small risk of complications such as infection or nerve damage. However, these risks can be minimized by choosing an experienced and qualified dentist and adhering to post-operative instructions. Dr. Mike Norouzinia and Dr. Kerri Font have both received extensive training and specialize in dental implant surgery, so you can rest assured that you're in good hands.
9. What is the routine maintenance of dental implants?
Dental implants require the same routine maintenance as your natural teeth – brush twice a day, floss daily, and see your dentist for regular check-ups and cleanings. Since dental implants and restorations cannot develop cavities, you won't need to worry about fillings or root canals. However, it's essential to keep up with your oral hygiene routine to avoid gum disease and other oral health issues.
10. What are the advantages of dental implants?
Dental implants offer several advantages, including:
Improved appearance and confidence. Dental implants look and feel like your natural teeth, so you can smile without worry.
Enhanced comfort. Dental implants are securely attached to the jawbone, providing a more comfortable fit than traditional dentures or bridges.
Preservation of healthy teeth. Unlike bridges, dental implants do not require adjacent teeth to be altered for placement.
Improved oral health and function. Dental implants can help restore chewing, speaking and other functions of the mouth that are lost with missing teeth.
To learn more about the benefits of dental implants, read How Dental Implants Can Improve Your Quality of Life.
Dental Implants in Highlands Ranch
At Highlands Ranch Periodontics and Dental Implants, we specialize in dental implant surgery. Dr. Mike Norouzinia, DDS, and Dr. Kerri Font, DDS, are highly qualified and experienced periodontists and implant specialists with decades of combined experience.
We focus on providing the highest quality care in a safe, comfortable environment. We understand that having dental work done can be stressful, so we strive to make the process as easy as possible for our patients.
We hope this blog has answered your questions about dental implants. If you have any other questions or would like to learn more, please contact us today! We look forward to helping you improve your smile and oral health with the highest quality care.
If you are searching for the best dental implants near me, trust the experts at Highlands Ranch Periodontics. To book an appointment, call (303) 683-1144 or complete the online booking form.