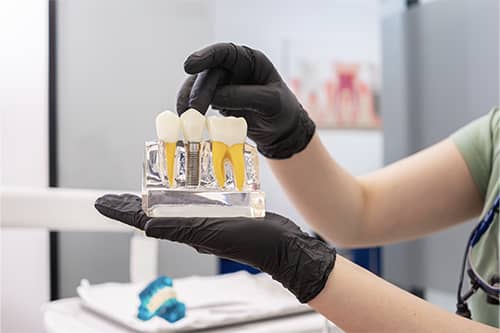 Dental implants have gained popularity as a long-lasting and reliable solution for individuals dealing with tooth loss. Whether you're missing one tooth or an entire arch, dental implants offer secure and natural-looking replacements.
At Highlands Ranch Periodontics and Dental Implants, Dr. Mike Norouzinia and his team are here to guide you through the process. In this comprehensive guide, we'll explain two popular dental implant options: Single Implants and All-on-4 Dental Implants.
Single Implants
A single dental implant is the most common type of implant procedure. It's an excellent solution for individuals looking to replace a single missing tooth or multiple missing teeth separated by healthy teeth.
How a Single Implant Works
A single dental implant consists of three main components:
Titanium implant post: This is a small, screw-like post that is surgically inserted into your jawbone. It acts as an artificial tooth root and is made from biocompatible titanium, which naturally fuses with your bone.
Abutment: This small connector is attached to the top of the implant post. It serves as a support for the final component – the dental crown.
Dental crown: A custom-crafted, natural-looking tooth made from materials such as porcelain or zirconia. It is attached to the abutment and serves as the visible part of the implant.
The process of getting a dental implant may take a few months. The implant post needs to integrate with your jawbone (osseointegration) and heal before the crown is placed.
All-on-4 Dental Implants
If you are missing multiple teeth or an entire arch of missing teeth, All-on-4® dental implants can be a life-changing solution. They offer a fixed, full-arch prosthesis that is supported by four or more dental implant posts.
How All-on-4 Implants Work
Here's a breakdown of the All-on-4 dental implant process:
Implant placement: Four or more dental implant posts are strategically placed in your upper or lower jawbone, with the two back posts slightly angled for maximum support.
Temporary prosthesis: A temporary, full-arch fixed prosthesis is attached on the same day as surgery. This allows you to have a fully functioning set of teeth while you heal.
Healing period: The healing period typically lasts a few months, during which the implant posts fuse with your jawbone.
Final prosthesis placement: Once the healing period is complete, your dentist will replace the temporary prosthesis with a custom-made, permanent set of teeth.
Benefits of All-on-4 Dental Implants
All-on-4 dental implants have a number of advantages over traditional dentures or bridges, including:
Longer lifespan: All-on-4 dental implants are extremely durable and can last up to 15 years with proper care. Traditional bridges and dentures typically need to be replaced every five to seven years.
Improved comfort: Unlike dentures, All-on-4 dental implants are secured in place with screws and will never slip or move. This leads to improved comfort and a higher quality of life.
Restored chewing capacity: All-on-4 dental implants offer restored biting force and chewing capacity, so you can enjoy the foods you love again.
Easier oral care: While traditional dentures need to be removed and cleaned daily, All-on-4 implants stay in place, so you can brush and floss as you do with your natural teeth.
Improved appearance: All-on-4 dental implants look and feel just like natural teeth, helping you smile with confidence.
Dental Implants Highlands Ranch
At Highlands Ranch Periodontics and Dental Implants, we are proud to offer advanced dental implant solutions with a personalized touch. Dr. Mike Norouzinia and his team are committed to providing their patients with the highest quality of care. Whatever your dental needs may be, you can trust us to provide customized solutions that meet your unique goals.
If you are searching for dental implants near me, trust the experts at Highlands Ranch Periodontics and Dental Implants. Call (303) 683-1144 to book an appointment, or complete the online booking form.
Frequently Asked Questinos About Dental Implants
Are Dental Implants Safe?
Yes, dental implants are considered to be a very safe and reliable tooth replacement option. The success rate for dental implants is over 95%.
How Much Do Dental Implants Cost?
The cost of your dental implant will vary depending on the number of teeth being replaced and any other treatments or procedures that may be necessary.
How Long Do Dental Implants Last?
With proper care, dental implants can last up to 15 years or longer.
Does Insurance Cover Dental Implants?
Most insurance plans do not cover the cost of dental implants, however, some policies may provide partial coverage for certain treatments. Check with your dental insurance provider for more information.
What Are the Benefits of Getting Dental Implants?
Dental implants offer many benefits, including improved comfort, restored chewing capacity, easier oral care and a natural-looking appearance. They also provide a longer lifespan than traditional dentures and bridges.

We hope this guide has provided you with valuable information about dental implants and the options available at Highlands Ranch Periodontics and Dental Implants. For more information about dental implants, read How Dental Implants Can Improve Your Quality of Life and What To Expect After Dental Implant Surgery.