Highlands Ranch Periodontics and Dental Implants provide comprehensive care for all aspects of periodontal health and dental implant placement treatment. Our office has three main areas of focus.
Our first love is that of saving teeth! Periodontal disease is the number one cause of tooth loss and we are experts in treating periodontal disease with the most successful, time-tested methods available today! We have saved countless teeth over many years. Periodontal disease is almost always painless. Just because a person's mouth does not hurt is in no way an indication of health!  The chronic infection progresses slowly over the years resulting in the destruction of the jawbone that provides support for the teeth. Eventually, the teeth get loose, which will lead to tooth loss. There is a very successful treatment for periodontal disease, known as "pocket reduction treatment" and has stood the test of time, as successful outcomes have been documented for decades.
In those cases where teeth need to be replaced, dental implants are the closest to natural teeth of all replacement options. We work closely with your general dentist in order to provide you with a successful team approach to your implant treatment. Implants can be used to replace single teeth or multiple teeth and can be used to anchor partial or complete dentures. It is very common for dentures to be loose fitting and therefore uncomfortable and difficult to chew with. Fortunately, with the addition of implants, dentures can be secure and efficient, and can have a huge impact on one's self-confidence and appearance!
For patients with terminal dentition, teeth in a day or an all-on-4 is a popular term for a treatment procedure used. In these cases, the upper or lower teeth are completely replaced with 4 or more implants using a specific protocol that allows the patient to walk away with teeth that very same day.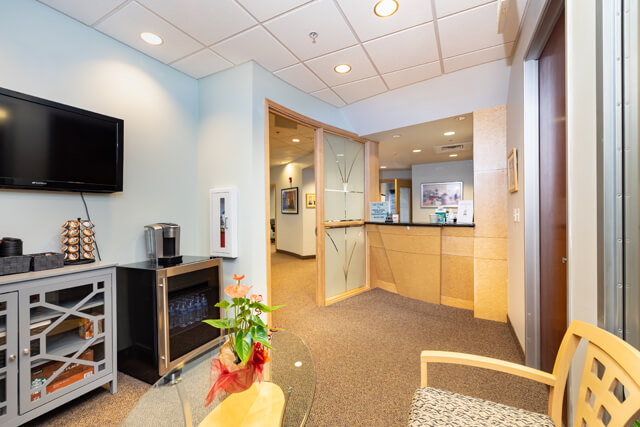 Another area of our focus and expertise is periodontal plastic surgery, or gum grafting and gum re-contouring. Smile-changing procedures can be done to cover exposed roots, reverse progressive recession, decrease sensitivity to cold, and improve a "gummy" smile. Here at Highlands Ranch Periodontics and Dental Implants, we perform hundreds of gum grafting procedures every year with excellent, smile-changing results.
Give us a call to schedule an appointment for a thorough examination and discussion about your periodontal health and your concerns. It just takes an hour or less and you will leave our office with a clear and accurate understanding of your specific periodontal situation and what your options are!