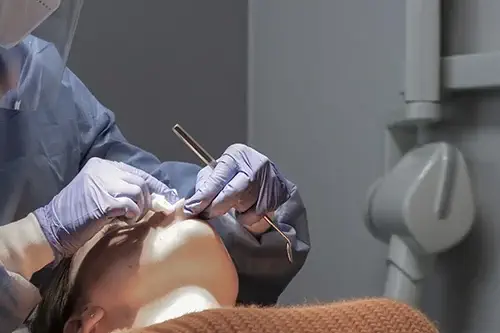 If you're experiencing discomfort, bleeding, or swelling in your gums, it's likely that you require specialized dental treatment to address the issue. Periodontics is the branch of dentistry that focuses on the prevention, diagnosis, and treatment of gum diseases and other conditions affecting the structures that support your teeth.
In this blog post, we'll explore some of the common periodontal treatment options, such as scaling and root planing and gum grafting so you can make an informed decision about your dental health.
Scaling and Root Planing
Scaling and root planing is a deep-cleaning procedure that removes built-up plaque and tartar from the root surfaces of the teeth. This treatment is often recommended as the first line of treatment for mild to moderate gum disease. This deep cleaning procedure involves:
Scaling – the removal of plaque and tartar buildup from the tooth surfaces and below the gum line.
Root planing – the smoothing of tooth roots to help the gums reattach to the teeth and prevent bacteria from accumulating again.
Scaling and root planing is typically performed under local anesthesia and may require more than one visit to your periodontist. This treatment can not only eliminate gum inflammation but also prevent further damage to the teeth and supporting structures.
Read Scaling and Root Planing to learn more about this procedure.
Gum Grafting
Gum grafting is a surgical treatment that is recommended when gum recession has caused the roots of the teeth to be exposed. This can put the teeth at risk for decay, sensitivity, and eventually tooth loss.
The procedure involves the placement of donor gum tissue – either taken from your own palate or a tissue bank – onto the area of gum recession. This new tissue stimulates the growth of your natural gum tissue, protecting the exposed tooth roots and improving overall gum health.
There are several types of gum grafting procedures, such as connective tissue grafts, free gingival grafts, and donor grafting. Your periodontist will determine the ideal grafting technique based on your specific situation and treatment goals.
Read Bone and Gum-Grafting for more information about this procedure.
Other Periodontal Treatments
There are many other periodontal treatment options your periodontist may recommend depending on your individual needs.
Dental Implants
Dental implants are artificial tooth roots that are placed into the jawbone to support a replacement tooth or bridge. They are typically made of titanium, which is biocompatible, meaning it can fuse with the surrounding bone tissue in a process called osseointegration. Once the implant is fused with the bone, an abutment and a prosthetic tooth or bridge can be attached to the implant.
Dental implants can improve the appearance and function of the teeth, and they are a popular option for people who have lost one or more teeth due to injury, decay, or other reasons. They are often considered a more durable and long-lasting alternative to dentures or bridges.
Ridge Augmentation
Ridge augmentation is a procedure used to build a strong, stable foundation for dental implants. It helps restore the natural contour of your jawbone, providing a more aesthetically pleasing result and improving your ability to chew and speak normally.
Sinus Augmentation
Sinus augmentation is a procedure used to correct an inadequate amount of bone in the upper jaw. The goal of sinus augmentation is to make more room for an implant by adding bone between your sinus wall and the jawbone. There are two types of sinus augmentations, Lateral Approach (sinus lift) and Crestal Approach (sinus tap).
Periodontist Highlands Ranch, CO
If you're experiencing gum-related issues or have been diagnosed with periodontal disease, it's essential to seek professional help from a skilled periodontist. Understanding the available periodontal treatments is the first step to restoring your oral health and getting your smile back on track.
If you are searching for a periodontist near me, contact Dr. Mike Norouzinia DDS and Dr. Kerri Font DDS, at Highlands Ranch Periodontics and Dental Implants. Call (303) 683-1144 to book an appointment or complete the online booking form.
Frequently Asked Questions About Periodontal Procedures
Does It Hurt After Scaling and Root Planing?
The procedure is usually performed with a local anesthetic, so you won't feel any discomfort during the treatment. Afterward, there may be some mild soreness and tenderness in your gums as they heal. Over-the-counter pain medications can help manage any discomfort.
How Long Does It Take To Recover From Gum Grafting?
Recovery time varies for each person, depending on the type of graft and other individual factors. Generally, you will experience some swelling and discomfort for a few days after the procedure. Your periodontist can provide detailed instructions on how to care for your gums while they heal.
When Is Scaling and Root Planing Necessary?
Your dentist may recommend scaling and root planing if they detect signs of gum disease, such as inflammation, bleeding gums, or receding gums. The procedure is designed to remove plaque and tartar buildup from the teeth and below the gum line to reduce inflammation and protect against further damage.