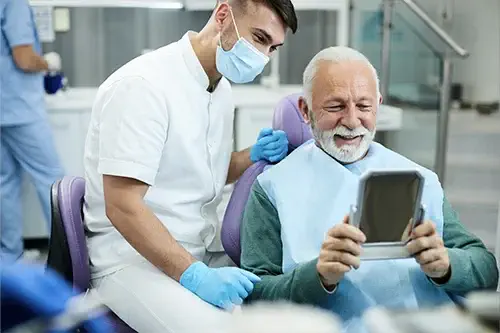 Dealing with multiple missing teeth can be frustrating, but thanks to advancements in dental technology and treatments, excellent solutions are now available.
One such solution is the combination of dental implants and dental bridges to restore both function and aesthetics. This treatment has become popular due to its many benefits over traditional dental bridges.
The experienced professionals at Highlands Ranch Periodontics & Dental Implants are dedicated to helping patients regain their beautiful smiles. This blog post will discuss how implant-supported bridges work and why they offer an ideal solution for patients with multiple missing teeth.
Traditional Bridge vs. Implant-Supported Bridge
A traditional bridge is a dental restoration system consisting of an artificial tooth or teeth supported by dental crowns on either side. These crowns are cemented onto the adjacent, healthy teeth on either side of the gap created by the missing tooth or teeth.
However, an implant-supported bridge eliminates the need to modify healthy adjacent teeth. Instead, it uses dental implants – titanium posts surgically placed into the jawbone – to support the bridge.
The Benefits of Implant-Supported Bridges
Implant-supported bridges offer numerous benefits, making them a preferred choice for people with multiple missing teeth. These include:
Improved stability and durability: Dental implants are fused with the jawbone, providing more strength and stability than traditional bridges. This makes them a long-term solution for replacing multiple missing teeth.
Natural look and feel: Implant-supported bridges offer a natural look and feel compared to traditional bridges.
Improved oral health: Unlike traditional bridges that rely on the support of adjacent teeth, implant-supported bridges do not require them to be altered or damaged in any way. Additionally, they help maintain proper oral hygiene, as food particles are less likely to get trapped under the bridge.
Prevention of bone loss: When a tooth is lost, the jawbone shrinks due to a lack of stimulation from the natural tooth root. This bone loss may lead to bone recession, compromising the integrity of the adjacent teeth. Dental implants replace the natural tooth root and stimulate the jawbone to prevent bone loss.
Read the blog How Dental Implants Can Improve Your Quality of Life for more information.
The Dental Implant Process
Dental implant surgery involves the following steps:
Initial consultation: During the initial visit, our experienced dentists will evaluate your oral health and determine whether you are a good candidate for dental implants.
Implant placement: Moderate dental sedation will be used, and your periodontist will inject local anesthesia to numb the area. Then, they surgically place the implant (titanium post) into the jawbone.
Healing period: The healing process, called osseointegration, is the time it takes for the implant to fuse with the jawbone. This period lasts three to six months.
Abutment placement: After the healing period, abutments are attached to the implant posts to connect them to the bridge.
Bridge placement: The final step is placing your custom-crafted bridge onto the implants.
In some cases, bone grafting procedures may be necessary to increase the amount of bone available for implant placement. Your dentist will thoroughly evaluate your needs to determine if this is necessary.
To learn more about bone grafts, read the article What Is a Bone Graft? Exploring Bone Grafting for Dental Implants.
Caring for Implant-Supported Bridges
Taking proper care of your implant-supported bridges ensures their longevity and prevents gum disease and tooth decay.
Here are a few tips to help you look after your new dental bridge:
Brush your teeth daily (after meals and at bedtime) with an antibacterial toothpaste.
Floss daily to remove food particles and plaque from between the bridges.
Avoid hard or sticky foods that might damage or dislodge the bridge.
Visit your dentist regularly for checkups and professional cleanings.
Dental Implant Periodontist Highlands Ranch
Implant-supported bridges offer a more permanent solution to multiple missing teeth, restoring function and aesthetics while preserving adjacent healthy teeth and bone structure. Don't let missing teeth hold you back. Trust Highlands Ranch Periodontics and Dental Implants to provide you with the care you deserve.
To schedule an appointment for dental implants in Highlands Ranch, call us at (303) 683-1144 or complete the online booking form. Our friendly staff will be happy to assist you and answer any questions.
If you are searching for dental implants near me, trust the experts at Highlands Ranch Periodontics and Dental Implants.
Frequently Asked Questions
How Long Do Implant-Supported Bridges Usually Last?
Implant-supported bridges can last fifteen years or more with proper care and maintenance. Regular checkups and professional cleanings will help ensure the longevity of your dental bridge.
Are Implant-Supported Bridges More Expensive Than Traditional Bridges?
Implant-supported bridges may be costlier than traditional bridges, but their long-term benefits outweigh the upfront costs. Additionally, most dental insurance plans cover part of the cost of dental implants.
Is The Dental Implant Procedure Painful?
The implant procedure is usually painless as local anesthesia is used to ease discomfort. However, some patients may experience mild discomfort or soreness after surgery. Your dentist will provide medications to help manage pain or discomfort.
 
For more information, read What To Expect After Dental Implant Surgery.