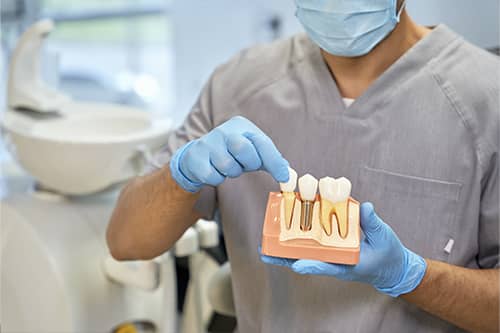 Have you heard of the All-On-4 dental implant procedure? This cutting-edge treatment is ideal if you suffer from tooth loss and periodontal disease. The All-On-4 implant procedure provides patients with a new, complete set of teeth in as little as one day. It's no wonder it's quickly gaining popularity among dentists and patients alike.
If you are considering All-On-4 dental implants, you most likely have questions! We have put together a list of the top 10 most frequently asked questions to help you make an informed decision.
Top 10 Most Frequently Asked Questions
1. What Is All-on-4?
The All-On-4 dental implant procedure involves surgically placing four or more implant posts in the jawbone, unlike traditional dental implants, which require six to eight implants per arch. The implants are angled at a 45-degree angle for improved grip and stability. The implant posts are then connected to a metal bar that supports an entire set of prosthetic teeth that suit your mouth and look natural. With this modern treatment, patients can enjoy a complete set of beautiful, functional teeth in as little as one day.
2. What Are the Benefits of Getting All-On-4?
All-On-4 dental implants have a range of benefits, including

– Reduced implant placement time and surgery time
– Reduced overall cost compared to other implants or traditional dentures
– Increased predictability and success rates
– They promote bone growth and prevent bone deterioration
– Faster recovery time
– They look and feel like natural teeth
– Immediate results

All these advantages make All-On-4 a great choice if you're looking for a long-lasting solution to restore your smile.

3. What Is the Success Rate of All-On-4 Dental Implants?
All-on-4 dental implants are highly successful, with published studies showing a 98.2% success rate for the lower arch and a 97 – 98% success rate for the upper arch. This high success rate is evidence of the effectiveness of this treatment option in restoring smiles and providing lasting satisfaction.
4. What Is the Failure Rate of All-On-4?
With high success rates, failure of All-On-4 dental implants is rare. Thousands of people have benefited from this treatment and enjoyed long-term results. However, failure can occur in a small number of cases (3 to 6%). It is important to consider all the factors when considering this procedure, as it involves complex surgery.
5. What Factors Can Improve the Success of Implants?
Here are four things that can affect the success of your dental implants:

Eat soft foods that won't put too much pressure on the implants during recovery. Any soft food, including soups, smoothies, mashed potatoes, or scrambled eggs, is recommended. Patients should avoid hard, crunchy, sticky foods as they can apply too much pressure on the delicate healing implants.

The condition of your jawbone and gums is an important factor for successful dental implant surgery, as a healthy bone structure and healthy gum tissue can improve the longevity and success of the implants.

Post-operative oral health care, including regular brushing, flossing, and dental checkups, is essential to ensure successful integration and longevity of dental implants.

Smoking can have a detrimental effect on dental implant surgery. It slows down the body's natural healing process, increases the risk of infection, and causes constricted blood vessels, leading to slower wound healing. To improve the success of your implants, your periodontist may require you to stop smoking for a certain period before undertaking any implant surgery.
6. Is the Procedure Painful?
No, the All-On-4 procedure is performed while you are under sedation, so there is no need to worry about feeling any pain. You may experience some swelling and bruising in the days following the procedure, but this is common and should subside.

7. How Long Does the Procedure Take?
The All-On-4 dental implant procedure usually takes about two to four hours per arch, depending on the complexity of the case. Proper care and maintenance will help the implants fuse with the jawbone over four to six months. Once complete, we will remove your temporary dentures, attach the metal bar to the implants and fit you with your new teeth.

8. How Long Do All-On-4 Implants Last?
All-On-4 implants have the potential to last as long as traditional dental implants, given that oseointegration is successful. With proper care and maintenance, it's possible for these implants to last a lifetime.
9. Who Is a Good Candidate for All-On-4 Dental Implants?
All-On-4 dental implants may be an ideal solution if you have lost all of your teeth and have enough bone density in the jaw to support the implants. Candidates should also be in good overall health to safely undergo surgery. If you are looking for a long-term solution, All-On-4 implants are a good choice for you!
10. What Kind of Follow-Up Care Do I Need After Treatment?
After getting All-On-4 implants, you must continue regular dental checkups and care. Maintaining good oral hygiene habits is crucial to keep your implants healthy. Follow any instructions from your periodontist regarding follow-up procedures or steps for maintenance.
Dental Implants Highlands Ranch, CO
Thanks to the All-On-4 procedure, patients can enjoy a complete set of beautiful, functional teeth that look and feel natural in as little as one day.
To find out if you are a candidate for All-On-4 dental implants, schedule an appointment with our experienced periodontist Dr. Mike Bahman Norouzinia, DDS. To find dental implants in Denver, CO, or dental implants near me, contact Highlands Ranch Perio at (303) 683-1144 or complete the online booking form.